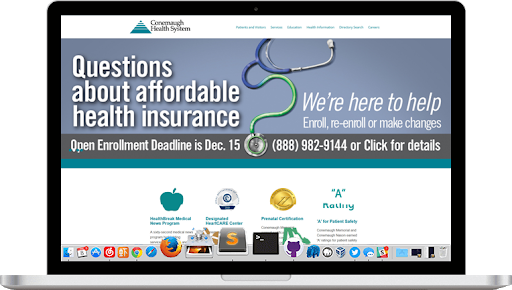 The Client
Conemaugh Health System, of Duke LifePoint Healthcare, is the largest healthcare provider in west central Pennsylvania, serving over a half-million patients each year through the Conemaugh Physician Group and Medical Staff, a network of hospitals, specialty clinics and patient focused programs. Conemaugh Health System employs over 5,000 clinical and non-clinical staff, and over 450 physicians committed to providing the ideal patient experience. Conemaugh Memorial Medical Center, the flagship hospital of Conemaugh Health System, is a tertiary care regional referral hospital known for clinical excellence and nationally recognized patient outcomes. Conemaugh Memorial is the most technologically sophisticated hospital between Pittsburgh, PA and Hershey, PA and offers specialized services including a regional Level 1 Trauma Center,  Level 3 Regional Intensive Care Nursery and high-risk obstetrical care.
Code to the greatest degree of specificity post ICD-10 implementation
Guide their coders in complex surgeries like cardiac and spinal
Interpret coding guidelines correctly
Business Situation:
Although the client was experienced in medical billing, collections and revenue cycle management, they did not have adequate coding expertise and had to prepare themselves to deal with the changes to be introduced by ICD-10. The company was averse to a wait and watch approach to tackle potential problems as they may arise. Fearing productivity may plummet once ICD-10 is implemented; they approached us to help them to:
The Solution
We were confident about managing the transition from ICD-9 to ICD-10 before the live date, because we had been preparing for the ICD-10 deadline since late 2011. By the time the client approached us, all our staff were trained in both ICD-9-CM and ICD-10. While preparing, we discovered that ICD-10-CM is not overwhelmingly different from ICD-9-CM and so could be easily learnt. This, however, was not the case with ICD-10 PCS.
We formed a team of trainers who had acquired deep knowledge of ICD-10 along with years of work experience in ICD-9. The team went about identifying coders from diverse areas in the client's team, having robust knowledge of ICD-9, a learning bent of mind and willing to embrace changes. The objective was to ensure that they could personally assist or train other coders in adapting to the new coding requirements.
From the onset we were clear about one thing – make the training intensive. Keeping this in mind, we planned a time table that involved 4 hours of rigorous training and making the trainees perform several repetitive tasks every day. We convinced the client to hire contract coders while in-house coders received training. This ensured that the trainees remained focused on learning the new codes.
Allaying fears about ICD-10 was our foremost task and we developed a detailed approach to tackle it. Our first task was to focus on the more manageable changes. Next, we created a General Equivalence Mapping (GEM) that covered examples of how several ICD-9-CM codes can be mapped to only one ICD-10 code. This was followed by creation of a third GEM that included examples of how multiple ICD-9-CM codes link to one ICD-10-CM combination code. The approach proved to be helpful as trainees gradually digested the changes and realized that, overall, the changes are certainly manageable.
The training was carried out with equally intensive audit to ensure high-levels of accuracy. Having earmarked an acceptable accuracy rate, we subjected the coders to weekly audits. This helped us track issues as they arose, develop a corrective action plan, and provide education based on reviews.
Result:
SEAMLESSLY TRANSITION TO THE NEW CODING SYSTEM AND MEET THE REQUIRED QUALITY STANDARDS THE SMOOTH TRANSITION LED TO INCREASED ACCURACY AND SUBSTANTIAL SAVINGS, WHICH TRANSLATED INTO 40% INCREASE IN REVENUES WITHIN THE FIRST 6 MONTHS OF IMPLEMENTATION.