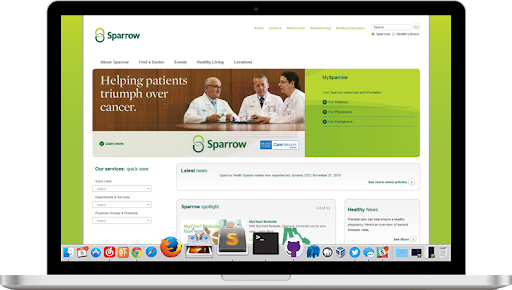 The Client
Sparrow has grown to become the region's largest health system, and its diverse range of facilities offer residents some of the most advanced medical technology available in the world. Sparrow has two Lansing campuses, and several community hospitals: Sparrow Clinton Memorial Hospital in St. Johns, Sparrow Ionia Hospital in Ionia, and Carson City Hospital. The health system has dozens of satellite care centers. Sparrow also offers the Michigan Athletic Club, a 276,000-square-foot facility voted one of the country's top health clubs.
Business Situation:
The two main reasons Sparrow decided to look at outsourcing transcription was to improve their turnaround time to reflect 24/7 patient care and to reduce their cost for medical transcription. One of their challenges with in-house Sparrow transcriptionists was to provide a consistent, acceptable turnaround time for customers. They had situations when they would get backlogged due to staffing issues, internet issues for the home-based transcriptionists and inconsistent volume of dictation on a daily basis. They would also had the other extreme when They would operate on "low census" protocol with running out of work, requiring frequent staff cancellations and supervisors going through a lengthy process following union guidelines for low census staffing. They were not able to recruit transcriptionists for the night shift which had an adverse impact on their turnaround time with no H&Ps, consultations or priorities transcribed between 11:30 PM and 6 AM. Due to cut backs in health care reimbursement, and in anticipation of more cut backs, They analyzed the cost of outsourcing transcription and They realized they were able to cut their costs in half by outsourcing.
The Solution
They had researched several vendors, and narrowed down the field to Diskriter. The two main reasons why they chose Diskriter was their sense that Diskriter shared the same passion for excellent customer service that they embrace there at Sparrow, and that the Diskriter team was on top of their needs and willing to accommodate and respond quickly. They had good, ongoing communication with the representatives from Diskriter during the selection process and They were also pleased with the proposed contract that Diskriter submitted where there were no set up fees, there was a verifiable charge per line for general dictation and charge per report for radiology editing in PowerScribe.
Result:
"When they went live with us, 30-days after notifying their MTs, They had a 3- week backlog in most work types and a 2-day backlog in the priority work types. Diskriter was able to catch the backlog up within the first week and has stayed within the contracted time since then. The Sparrow transcription supervisor worked closely providing feedback to the Diskriter team. Approximately two months into the transition, report quality has improved to the point they were at with the former Sparrow in-house transcriptionists - with a better and more consistent turnaround time.
Benefits that have positively impacted their financials, such as:
No longer needing IT support for the individual transcriptionists with help desk analysis's, PC techs and network specialists.
Asset Management - the PCs that the transcriptionists had and the 14 spare PCs reserve on-site for the transcriptionists in case the home-based had technical issues and had to work in-house on rare occasions have been redeployed.
Incentive pay, travel and mileage, internet reimbursement and downtime costs for MTs has been eliminated.
With minimal daily transcription issues, the time spent by the Transcription Supervisor on day-to-day operations is now being spent in revenue generating areas of the HIM Department.
The overall impact for Sparrow with Diskriter partnership is having a very consistent and amazing turnaround time. All document types are back within their contracted time, or better. They have accomplished their goal to reduce transcription costs, a reduction of one-half of what their cost had been with Sparrow in-house transcriptionists.